Limiting Inappropriate Antibiotic Use in the Emergency Department with the Help of PCR
Watch Now
Dr. Larissa May discusses how clinical practice guidelines on skin and soft tissue infections make it more important than ever to use diagnostics to guide targeted antibiotic use. Hear how her institution was able to reduce inappropriate antibiotic use in the ED with the help of on-demand PCR testing for MRSA and S. aureus.
For
in vitro
Diagnostic Use
TEDx Talk Brings Antibiotic Stewardship Message to the Masses
Watch Now
In a recent TEDx talk, Dr. Debbie Goff, a clinical pharmacist and global antimicrobial stewardship advocate, delivers a compelling case for shared responsibility in the fight against drug-resistant organisms. With real-life examples of "just in case" antibiotic use, the case for stewardship is presented in a relatable format suitable for clinicians and non-clinicians alike.
Chlorhexidine Use Can Lead to Colistin Resistance
A recently published scientific study identifies a novel resistance mechanism to the widely used antiseptic, chlorhexidine, which fosters cross-resistance to Colistin, an antibiotic of last resort for treatment of carbapenem-resistant infections. The study shows that mutations conferring chlorhexidine resistance in Klebsiella pneumoniae lead to generation of mutations that result in Colistin resistance (Figure 1). Interestingly, this appears to be unidirectional − Colistin resistance does not lead to chlorhexidine resistance.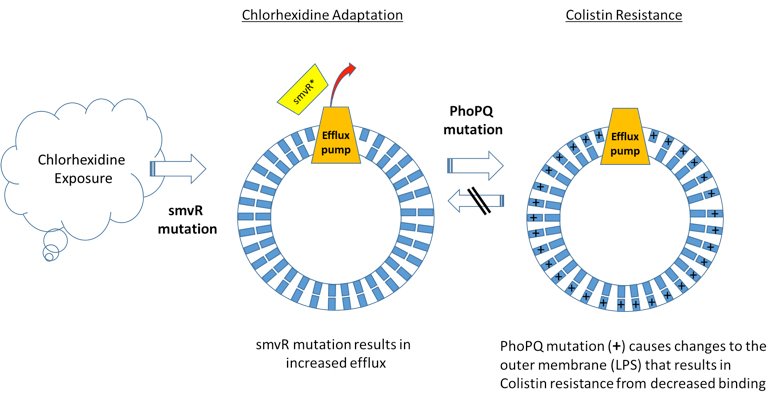 Based on these findings, eradicating Colistin-resistant Klebsiella isolates may become increasingly problematic given the current and increasingly broad use of chlorhexidine. While the study affirms Darwin − evolutionary pressure leads to the development of new resistance mechanisms – loss of an antibiotic of last resort like Colistin has wide-ranging and potentially lethal implications, including prolonging of outbreaks or leading to new outbreaks. This article highlights the challenges and should generate discussion about common infection control practices using chlorhexidine to prevent healthcare associated infections. Employing more vigilant anti-microbial resistance (AMR) monitoring, including sensitive and specific molecular diagnostics as early surveillance, may be one strategy to address the dilemma posed by these results and reduce the potential for AMR infections.
Click here for more on the study from Antimicrobial Agents and Chemotherapy.
Wand ME, Bock JL, Bonney LC, Sutton JM. Mechanisms of increased resistance to chlorhexidine and cross-resistance to colistin following exposure of Klebsiella pneumoniae clinical isolates to chlorhexidine. Antimicrob Agents Chemother. 2016 Oct 31. doi: 10.1128/AAC.01162-16 [Epub ahead of print].
Reduced empiric antibiotic therapy with rapid molecular testing for C. difficile
Compared with traditional testing methods*, on-demand PCR testing with Xpert C. difficile resulted in:
20% fewer patients receiving empiric antibiotic therapy
62% reduction in days of empiric therapy (2.3 vs 0.9 days; P = 0.007)
3.33 fewer doses per patient administered
42% fewer tests performed (per patient)
No increase in total cost of care (despite higher price-per-test)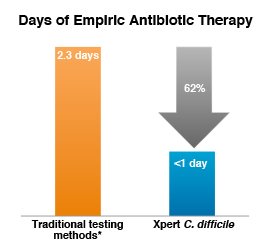 * C. DIFFICILE TOX A/B II EIA Test (TechLab).
Peppard WJ and Ledeboer NA. Implementation of Polymerase Chain Reaction to Rule Out Clostridium difficile Infection Is Associated With Reduced Empiric Antibiotic Duration of Therapy. Hosp Pharm. 2014;49:639-43.
Faster detection of MRSA and S. aureus from positive blood cultures optimizes treatment decisions & outcomes
On-demand molecular diagnostic testing with Cepheid's Xpert MRSA/SA BC plus antimicrobial stewardship intervention resulted in a reduction in:
Mean time to optimal antibiotic therapy of 1.7 days
Mean length of stay of 6.2 days
Mean hospital costs of $21,387 per patient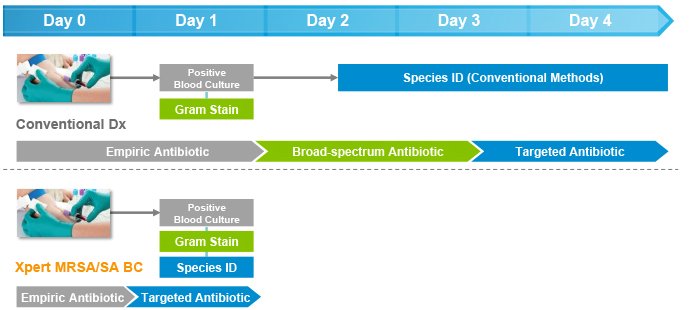 Bauer KA, West JE, Balada-Llasat JM, et al. An antimicrobial stewardship program's impact with rapid polymerase chain reaction methicillin-resistant Staphylococcus aureus/S. aureus blood culture test in patients with S. aureus bacteremia. Clin Infect Dis. 2010 1;51:1074-80.