Carbapenemases: The UK Experience
Watch Now
Hear from leading UK experts on recent challenges and solutions with carbapenemase-producing Enterobacteriaceae (CPE) in northwest England.
The UK has been leading the way with innovative approaches to address the carbapenemase threat and limit the spread of these dangerous organisms. Scroll down to listen to short interviews with key experts in the field:
Dr. Tim Neal – Infection Control Doctor – Liverpool Clinical Laboratories
Dr. Andrew Dodgson – Microbiology and Infection Control Lead – University of Manchester Foundation Trust
Terry Whalley – Executive Level – NHS Program Manager
Effectiveness of MRSA Surveillance Highlighted in Update to Landmark Study
The American Journal of Infection Control published a study out of the Veterans Health Administration (VA Health System) — the largest integrated health care system in the US — highlighting its continued success reducing MRSA rates system-wide using a program centered around on-demand PCR surveillance testing.1 Over an 8-year period, the initiative is credited with reducing MRSA healthcare-associated infection (HAI) rates by:
87% in ICUs
80% in non-ICU settings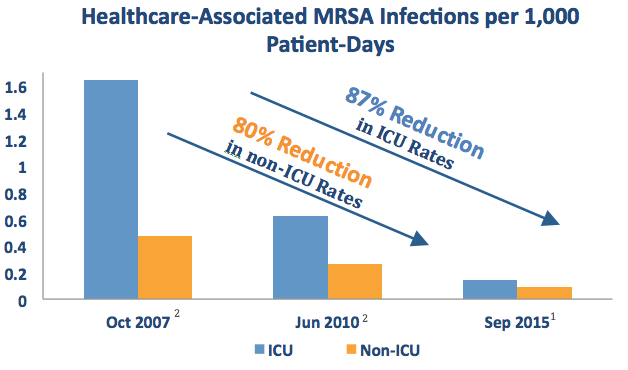 As noted in a separate publication in 2016,3 the VA also deemed this initiative to be cost effective.
The authors of the most recent article credit active surveillance testing with playing a critical role in their long-term success reducing MRSA rates:
We speculate that active surveillance was the primary driver of the downward trends seen in the VA because MRSA HAI rates had not changed before October 2007 when the Initiative was fully implemented, even though formal recommendations for hand hygiene and device-related infection control bundles had been in place for several years."
Click here to read the full open source article.
References:
1. Evans ME et al. Am J Infect Control. 2017;45:13-6.
2. Jain R et al. N Engl J Med. 2011;364:1419-30.
3. Nelson RE et al. Am J Prev Med. 2016;50(5S1):S58-S65.
The Role of Molecular Diagnostics in CRE Screening
Watch Now
At the 2016 IDWeek meeting in New Orleans, Dr. Teena Chopra delivered a presentation entitled Rapid Diagnostics in the Post Antibiotic Era: Averting a Catastrophe. Click the image above to watch a replay of the full presentation.
This video was made available with the speaker's permission.
New National Targets for Reducing Healthcare-Associated Infections (HAIs) Announced
The US Department of Health and Human Services (HHS) recently announced new HAI reduction targets for acute care hospitals as part of its national HAI Action Plan. The announcement builds on progress made over the past few years toward goals established using a 2009 baseline. The updated targets are based on a newly established 2015 baseline and represent what the agency called "ambitious but achievable" goals.
Click here to read the full article 


Overview of Updated HAI Reduction Targets
Note:Slide the table to see more data
Category

2020 Target (from 2015 baseline)

CLABSI
CAUTI
Invasive MRSA
Facility-onset MRSA
CDI
SSI
Clostridium difficile hospitalizations

50% reduction
25% reduction
50% reduction
50% reduction
30% reduction
30% reduction
30% reduction
Active surveillance to reduce MRSA rates and improve outcomes
Watch Now
MRSA is a common healthcare-associated infection, causing hundreds of thousands of infections globally each year. For example, as many as 375,000 MRSA infections and 23,000 related deaths occur annually in the United States alone.1 Implementation of on-demand PCR testing with Xpert MRSA followed by isolation of patients infected or colonized with MRSA has a been shown to reduce both HAI rates and infection-related costs.2
Click here to learn about the integration of on-demand molecular testing into one hospital's MRSA Active Surveillance Program.
1. Kavanagh KT, Calderon LE, Saman DM and Abusalem SK. The use of surveillance and preventative measures for methicillin-resistant staphylococcus aureus infections in surgical patients. Antimicrob Resist Infect Control. 2014;3:18. ;
2. Spencer M, Barnes S, Parada J et al. A primer on on-demand polymerase chain reaction technology.  Am J Infect Control. 2015;43:1102-8.