Global Laboratory Initiative Outlines Protocol for Finding Early Active Cases of TB
Laboratories play a crucial role in identifying early active cases of Tuberculosis (TB), which is a key to eliminating the disease worldwide. In order to meet WHO's goals for prevention of TB transmission and improvement of patient care, rapid testing of TB suspects with sensitive molecular diagnostic tests is recommended by the Global Laboratory Initiative (GLI) and experts from the European Tuberculosis Laboratory Initiative (WHO European Region). Both global expert groups recommend the use of Cepheid's Xpert MTB/RIF as a frontline test, rather than smear microscopy or line probe assays in conjunction with culture-based methods for drug susceptibility testing.1,2
In its publication, GLI outlined a preferred algorithm for promoting universal patient access to rapid testing for TB and rifampicin resistance.1 Read more about the GLI model by clicking here.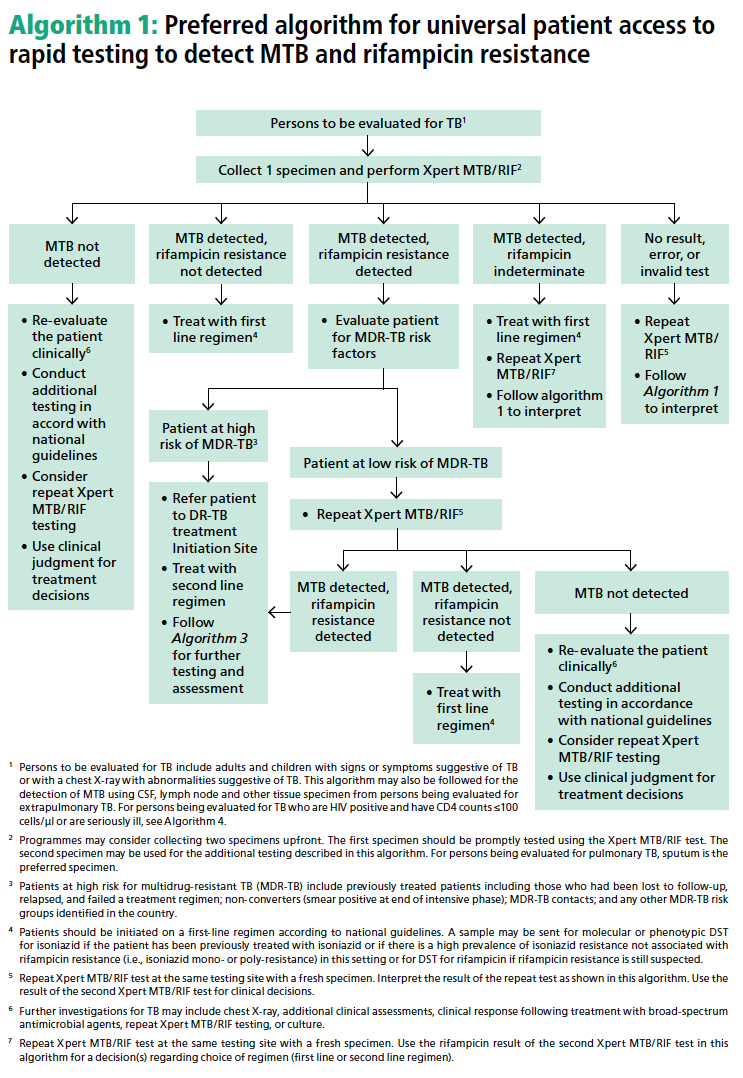 1. Global Laboratory Initiative. GLI model TB diagnostic algorithms. Accessed Mar 2017. http://www.stoptb.org/wg/gli/assets/documents/GLI_algorithms.pdf 
2. European Tuberculosis Laboratory Initiative. Algorithm for laboratory diagnosis and treatment-monitoring of pulmonary tuberculosis and drug-resistant tuberculosis using state-of-the-art rapid molecular diagnostic technologies. Accessed Mar 2017. http://www.euro.who.int/__data/assets/pdf_file/0006/333960/ELI-Algorithm.pdf
Complex transmission pathways of VRE necessitate active screening
A 7-year study of the routes of nosocomial vancomycin-resistant Enterococcus (VRE) transmission in a single institute in Cambridge, United Kingdom, provides new information with important implications for hospital infection control. The study identified multiple routes of VRE introduction into the hospital followed by a complex network of organism transmission thereafter.  
These findings reinforce the importance of using active screening to detect VRE carriers in conjunction with infection control measures to prevent further transmission. Active screening as part of a broader infection prevention program can reduce the rates of VRE colonization and infection, which can lead to lower rates of infection such as seen in countries that implement this strategy, such as Finland and the Netherlands.
This study used patient admission and ward movement data along with advanced whole genome sequencing methods to track introduction and transmission of multiple VRE strains. More than 50% of isolates found in the study were highly related to at least one other isolate, highlighting the complexity of VRE transmission within the hospital. Given the data, the investigators concluded that targeted infection control interventions triggered only by outbreak investigations, without active screening, would only be partially effective in reducing VRE rates.
Active screening reduces the rates of VRE infection, and countries that implement this strategy (eg, Finland and the Netherlands) have considerably lower rates of VRE infection than the United Kingdom."
VRE is a leading cause of healthcare-associated infections. These infections, compared with those caused by vancomycin-susceptible enterococci, have higher mortality rates and healthcare costs. Because it can often persist in hospital settings, vancomycin resistant strains of Enterococcus faecium is a particular challenge to eradicate. This challenge is compounded by a lack of active screening.
The report of their findings was published in Clinical Infectious Diseases.
KE Raven et al. Clinical Infectious Diseases 2017
Benefits of testing for S. aureus before surgery highlighted in consensus paper
The benefits of using rapid molecular diagnostic technology for pre-operative screening of MRSA/S. aureus carriers are highlighted by an international group of infection control experts in a recent consensus paper.
Surgical site infections (SSIs) are among the most common healthcare-associated infections (HAIs), and result in significant morbidity and mortality.  Nasal colonization with S. aureus is the most important independent risk factor for the development of an SSI in clean surgery, as the rate is 2 to 9 times higher in carriers than in non-carriers.
Following the 1st European S. aureus & Surgical Site Infection round table, 10 European and American experts reviewed the evidence on the value of screening for nasal carriage of S. aureus and subsequent decolonization of positive patients pre-operatively. Their findings were published as a consensus paper in the Journal of Hospital Infection.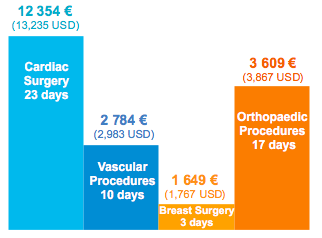 SSI Additional Length of Stay and Cost
There is a clear correlation between empirical/universal use of mupirocin and antiseptic and the emergence of resistance to these agents amongst MSSA, MRSA and S. epidermidis, increasing from 60 to 95%.
An efficient solution for patients undergoing clean surgery is the utilization of rapid molecular diagnostic technology for the pre-operative identification of carriers of MSSA and MRSA, followed by mupirocin and chlorhexidine decolonization.
This treatment strategy is associated with reduced SSI rates and cost savings:
Reduced the rate of S. aureus infection by 60%
Decreased the mortality rate by 57%
Reduced hospital LOS by 2 days
Reduced cost of care by 2 841 € (3,044 USD) per cardiothoracic patient and 955 € (1,023 USD) per orthopedic patient
Screening and selective decolonization of patients positive for S. aureus have the benefits of preventing SSIs, helping to contain costs, monitoring changes in circulating isolates of MSSA and MRSA, and minimizing the emergence of resistance."
Reference:
H. Humphreys et al. Journal of Hospital Infection 2016
Carbapenemases: The UK Experience
Watch Now
Hear from leading UK experts on recent challenges and solutions with carbapenemase-producing Enterobacteriaceae (CPE) in northwest England.
The UK has been leading the way with innovative approaches to address the carbapenemase threat and limit the spread of these dangerous organisms. Scroll down to listen to short interviews with key experts in the field:
Dr. Tim Neal – Infection Control Doctor – Liverpool Clinical Laboratories
Dr. Andrew Dodgson – Microbiology and Infection Control Lead – Central Manchester Foundation Trust
Terry Whalley – Director of Strategy & Sustainability, Wirral University Teaching Hospital NHS Foundation Trust
Effectiveness of MRSA Surveillance Highlighted in Update to Landmark Study
The American Journal of Infection Control published a study out of the Veterans Health Administration (VA Health System) — the largest integrated health care system in the US — highlighting its continued success reducing MRSA rates system-wide using a program centered around on-demand PCR surveillance testing.1 Over an 8-year period, the initiative is credited with reducing MRSA healthcare-associated infection (HAI) rates by:
87% in ICUs
80% in non-ICU settings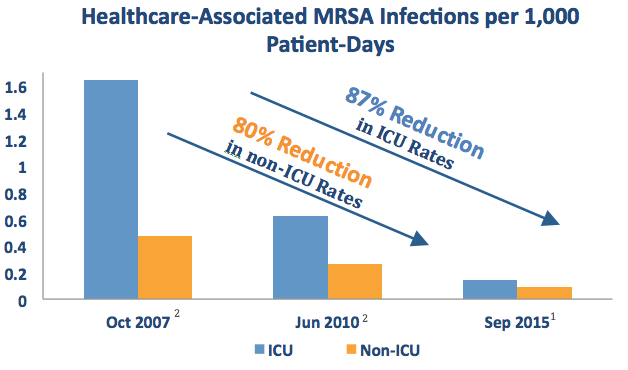 As noted in a separate publication in 2016,3 the VA also deemed this initiative to be cost effective.
The authors of the most recent article credit active surveillance testing with playing a critical role in their long-term success reducing MRSA rates:
We speculate that active surveillance was the primary driver of the downward trends seen in the VA because MRSA HAI rates had not changed before October 2007 when the Initiative was fully implemented, even though formal recommendations for hand hygiene and device-related infection control bundles had been in place for several years."
Click here to read the full open source article.
References:
1. Evans ME et al. Am J Infect Control. 2017;45:13-6.
2. Jain R et al. N Engl J Med. 2011;364:1419-30.
3. Nelson RE et al. Am J Prev Med. 2016;50(5S1):S58-S65.
The Role of Molecular Diagnostics in CRE Screening
Watch Now
At the 2016 IDWeek meeting in New Orleans, Dr. Teena Chopra delivered a presentation entitled Rapid Diagnostics in the Post Antibiotic Era: Averting a Catastrophe. Click the image above to watch a replay of the full presentation.
This video was made available with the speaker's permission.
New National Targets for Reducing Healthcare-Associated Infections (HAIs) Announced
The US Department of Health and Human Services (HHS) recently announced new HAI reduction targets for acute care hospitals as part of its national HAI Action Plan. The announcement builds on progress made over the past few years toward goals established using a 2009 baseline. The updated targets are based on a newly established 2015 baseline and represent what the agency called "ambitious but achievable" goals.
Click here to read the full article 


Overview of Updated HAI Reduction Targets
Note:Slide the table to see more data
Category

2020 Target (from 2015 baseline)

CLABSI
CAUTI
Invasive MRSA
Facility-onset MRSA
CDI
SSI
Clostridium difficile hospitalizations

50% reduction
25% reduction
50% reduction
50% reduction
30% reduction
30% reduction
30% reduction
Active surveillance to reduce MRSA rates and improve outcomes
Watch Now
MRSA is a common healthcare-associated infection, causing hundreds of thousands of infections globally each year. For example, as many as 375,000 MRSA infections and 23,000 related deaths occur annually in the United States alone.1 Implementation of on-demand PCR testing with Xpert MRSA followed by isolation of patients infected or colonized with MRSA has a been shown to reduce both HAI rates and infection-related costs.2
Click here to learn about the integration of on-demand molecular testing into one hospital's MRSA Active Surveillance Program.
1. Kavanagh KT, Calderon LE, Saman DM and Abusalem SK. The use of surveillance and preventative measures for methicillin-resistant staphylococcus aureus infections in surgical patients. Antimicrob Resist Infect Control. 2014;3:18. ;
2. Spencer M, Barnes S, Parada J et al. A primer on on-demand polymerase chain reaction technology.  Am J Infect Control. 2015;43:1102-8.